Marcos Cueto
Professor, Casa Oswaldo Cruz (COC) & Fundação Oswaldo Cruz (Fiocruz)
Editor, História, Ciências, Saúde-Manguinhos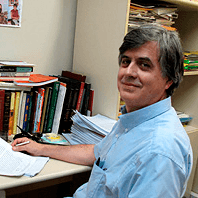 Professor, Casa Oswaldo Cruz, FIOCRUZ &
Editor Journal História Ciência Saúde-Manguinhos
EDUCATION
1988 Ph.D. Columbia University. New York. History Department.

POSTDOCTORAL TRAINING
1991-92 Massachusetts Institute of Technology. Program "Science, Technology and Society."
MAIN PREVIOUS PROFESIONAL EXPERIENCE
2009-2011 Director General. Instituto de Estudios Peruanos, Lima.
1997-2011 Principal Professor. Universidad Peruana Cayetano Heredia, UPCH, Lima.
MAIN POSITIONS AS VISITING PROFESSOR AND RESEARCHER
2018 Harvard University, Robert F. Kennedy Visiting Professor, Spring.
2017 University of Shanghai, China, Distinguished Visiting Professor. November.
2014 L'Institut de hautes études internationales et du développement, Geneva. Spring.
2008 Visiting Senior Research Scholar and Visiting Professor. Princeton University. Spring.
2006 Edward Laroque Tinker visiting professor. Stanford University. Spring.
2004 Fellow Woodrow Wilson International Center, Washington D.C. Spring.
1999 Visiting Professor. New York University. New York. Spring.
MAIN PUBLICATIONS
Peer-Reviewed Books:
Medicine and Public Health in Latin America A History. [with Steven Palmer] (New York: Cambridge Univ. Press, 2016) [2017 George Rosen Award, American Association for the History of Medicine, USA].
Saúde Global: uma breve história. (Rio de Janeiro: Editora Fiocruz, 2015).
Cold War and Deadly Fevers: Malaria Eradication in Mexico, 1955-1970. (Baltimore: Johns Hopkins Univ. press, hardback 2007, paperback 2014). [Spanish 2013].
El Valor de la Salud: Historia de la Organización Panamericana de la Salud. (Washington, D.C.: OPS, 2004). [English and Portuguese 2007].
El Regreso de las Epidemias: Salud y Sociedad en el Perú del Siglo XX. (Lima: Instituto de Estudios Peruanos, IEP, 1997). [Premio Iberoamericano Latin American Studies Association, USA, English 2001].
Main Peer-reviewed articles:
"An Asymmetrical Network: National and International Dimensions of the Development of Mexican Physiology." Journal of the History of Medicine and Allied Sciences 71,1 (2016): 43-63.
"La 'cultura de la sobrevivencia' y la salud pública internacional en América Latina: la Guerra Fría y la erradicación de enfermedades a mediados del siglo XX." Historia Ciencia Saúde-Manguinhos. 22:1 (2015) 255-273.
"El Proceso de Creación de la Organización Mundial de la Salud y la Guerra Fría." [with Theodore Brown & Elizabeth Fee] Apuntes. 38, 69 (2011) 129-156.
"The Origins of Primary Health Care and Selective Primary Health Care." American Journal of Public Health. 94, 11 (2004): 1864-1874.
"Sanitation from Above: Yellow Fever and Foreign Intervention in Perú, 1919-1922." Hispanic American Historical Review. 72 (1992): 1-22.
"Andean biology in Peru: scientific styles on the periphery." ISIS 80 (1989): 640-658. [Based on essay 1988 Henry Schuman Prize–History of Science Society].
MAIN PRIZES AND AWARDS
2016 Book Award. Latin American Studies Association-Section-Health-Science-and-Society for Medicine and Public Health in Latin America: A History (Cambridge Univ. Press).
2010 Premio Bustamante 'Historia' Peruvian National Award for a distinguished career in history.
2006 "Medalla Académica" Mexican Society for the History of Science and Technology.
1998 Co-winner Premio Iberoamericano. Latin American Studies Association, LASA.
1987 Henry Schuman Prize. U.S. History of Science Society.
Painelistas | Panelists | Panelistas